"From the oldest materials, creating the present"

Yuri Kezuka "10 years"

Supervised by ARCHI HATCH
"From the oldest materials, creating the present"Yuri Kezuka "10 years"
From 09/Oct/2020 (Fri) – 18/Oct/2020 (Sun)
10:30 – 18:00※ 09/Oct from 13:00
Exhibition venue LOGS Building 1F 7-14 Nihonbashiyokoyamacho, Chuo Ward, Tokyo
Opening reception 09/Oct (Fri) 18:00
Please wear a mask when you come to the venue to prevent infection with the new coronavirus.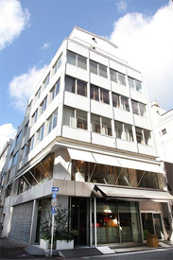 Logs bldg.
An exhibition will be held to look back on the creative activities of Yuri Kezuka, who has celebrated 10 years as an artist this year. In light of the current novel coronavirus situation, the exhibition is planned to be opened online, using 3D scanning, together with the exhibition venue. You are invited to experience the new potential of art appreciation online this "art" autumn.
Exhibition introduction by Tohru Matsushita
Using the medium of clay, Kezuka recreates mass-produced everyday objects such as buckets, taps and rubber gloves. Her work is characterised by the use of "coil building", a primitive pottery technique used to create 3-dimensional structures. A piece that may look like a dirty bucket at first glance, is actually composed of dense laminated clay and overlapping layers of glistening glaze on closer inspection. Kezuka expresses an extreme contradiction between "form of the motif (image)" and "quality of detail (texture)", creating a lag between how we "view the object" and how we "perceive the object". This "perception lag" represents the problem of visual recognition circulating in modern society, such as the detachment between "matter" and "data" brought by the internet. Furthermore, Kezuka's carefully stacking of individual strings of clay to form "ready made goods", followed by the time required to dry and fire the clay, makes the viewer aware of the flow of time passing through matter, contrasting the "instant nature of ready-made goods" and the "refinement of ceramics". This flow of time also relates to the enormous gap between how mass-produced goods made from fossil fuels deteriorate in tens of years, whereas ceramics last for tens of thousands of years. Kezuka's work questions how objects are "viewed" and "perceived" in modern society, whilst considering the various characteristics and meanings held by the medium of clay. By chance, Kezuka's solo exhibition will be held during the time of the novel coronavirus. The water-related motifs of dirty showers and scrubbing towels in Kezuka's work holds a special meaning to how we live in the present day. We live in fear of invisible microorganisms that may be attached to the surface of ready-made goods. In a way this point of view overlaps with Kezuka's work, where clay is layered methodically with glaze to depict stains on ready-made goods. More than "the past before coronavirus", I believe that viewing Kezuka's work in "the world after coronavirus" will create an even more interesting experience. I do hope you will be able to take a look.